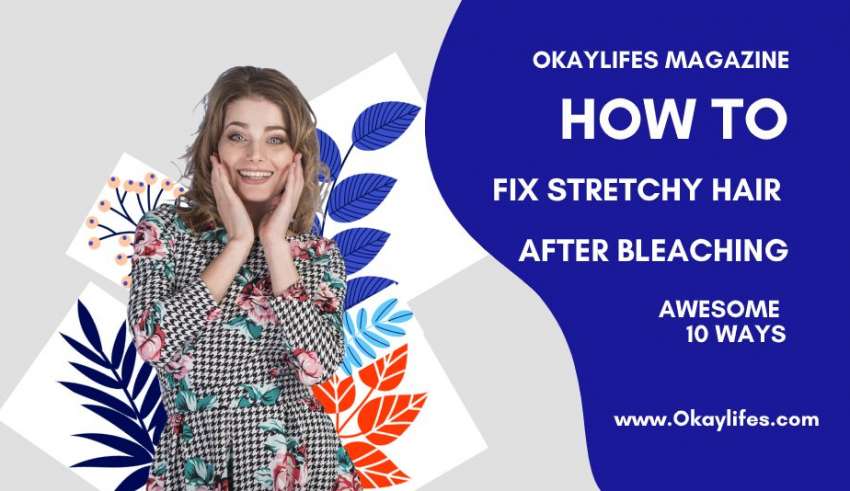 Awesome ways to fix Fix Stretchy Hair After Bleaching
Fixing stretchy hair can be easy if you know the right way of how to fix stretchy hair after bleaching.
Bleaching may cause your hair stretchy, breakages, dandruff, and so on. That's why you must take hair care after bleaching.
Hydrate hair after bleaching is a must-do job if you care about your hair.
Throw out your worries about how to hydrate hair after bleaching. I have enlisted the easiest instruction on it.
Don't skip any of the 10 below to fix your hair problem after beaching. Each way has potential efficiency.
Let's dig deeper.
Awesome 10 ways to fix stretchy hair after bleaching
1. Don't wash hair very often:
Over-washing hair may increase the volume of hair damages. You know our scalp produces natural oil that creates moisture to our hair to keep them healthy.
When we wash our hair, this natural oil goes out from the scalp. As a result, our hair gets dry very soon. Without the necessary moisture, we experience dandruff in our scalp.
However, I am not saying to go to a party with your dirty hair. You can wash it by ensuring a good condition over your hair. Conditioner provides hair necessary moisture for a long time.
The natural oil produced in the scalp is incomparable to the buying products. Keep it in mind.
2. Don't use straightener:
Throw out your hair straightener for a long period. You shouldn't keep any flat iron also for a certain time if you want to fix your bleached hair.
Bleaching is not just a color remover nut also a chemical that stays for a long period in your hair naturally. You should let it do its duty properly.
When you use an iron or heater in the hair, the moisture dries away and stops producing moisture naturally. Here, you are killing the action as well as stopping the natural growth of hair.
3. Take a break for your hair:
We cannot forward a single step without making a hairstyle. We get panic about other hairstyles instead of caring for our own.
After bleaching your hair, you must not use anything to make hairstyles. You can modify your hair in different styles naturally using clips and bands.
Don't make it stylish least the scalp feels pressure. It is better to stay home for a couple of weeks so that the bleaching fits on your hair properly.
I am sure that you have that much patience for the sake of your hair.
4. Restore the protein:
The hair growth and condition depend on the level of protein that contains your hair. After bleaching hair, you may need more protein to restore the strength of hair.
To ensure the necessary protein in hair, you have to make some changes in your regular diet. Your diet should include some hair growth-friendly food.
You can use vitamin tables as an alternative to diet. You can put vitamin E, D, and iron capsules in the hair with oils.
Natural oils are also very much efficient to restore the protein eventually.
5. Get a hair mask:
[amazon bestseller="hair mask" items="3″ template="table"] Applying a hair mask is an efficient step to fix bleached hair. Hair mask provides protein, minerals, and moisture to the hair without side effects.
In this case, you can make the hair mask at home mixing some natural ingredients. You just need to know how to make a hair mask at home.
Get some eggs, vitamin E and D capsule, coconut oil, Aloe Vera gel, and olive oil. Arrange a bowl to mix them.
Take the necessary volume of the ingredients into the bowl and mix them to make a fine paste. Use your fingers to apply this homemade hair mask in your hair.
Then, just rinse out the hair with water and shampoo.
6. Shelter your head in moisture:
After applying such a hair mask or other hair-friendly product on your hair, shelter the hair from sun and dust.
You should keep these ingredients in action for a certain time so that it can provide the hair necessary moisture.
On the other hand, you should save your hair for necessary moisture from the sun damages. Try to wear a hair cap when traveling outside in the sun.
7. Use quality hair products:
Before buying any product for your hair, you must consider the brand, quality, and ingredients.
Don't be confused about seeing the attractive ads of the brands. Check out the customer review of the brands. Don't forget to see their reputation.
These products must suit your hair and health. You will find some products that carry harmful chemicals. After using these products for a few days, you will notice itching on the scalp.
If possible, get a suggestion from hair experts to buy a suitable product for you.
8. Use wide teeth comb:
Combing hair is a must-do job. It ensures the blood circulation process in our scalp. The more you comb, the more blood will circulate.
You must be gentle with your hair while combing wet hair. Wet hair is more prone to be a tangle. Don't be rude to your hair.
To pass out the tangled hair, get wide teeth to comb. Forget the older one if it creates pressure while combing hair.
Try to comb hair 4 to 6 times a day. Avoid combing wet hair. Too much combing may cause hair breakage.
9. Trim the split end:
Trim your hair split ends to save others. You can see the damaged hair top easily. Cut them out with trimmer or scissor.
It seems to be hard but you got no way to save the healthy hair. Do it as soon as you have discovered the hair breakages.
To save stretchy hair after bleaching, it can be a perfect way.
10. Take tablets:
Don't shy to meet a hair expert if the problem is heading day by day. You can consume the tablets that help your hair to grow faster and reduce damages.
They can suggest you take omega-3 tablets to consume for several days if the hair damages are in the high range. Don't take any medicine without the suggestion of hair experts.
Bottom line:
You may experience several problems after bleaching your hair. Before going to bleach hair, you must know how to fix stretchy hair after bleaching.
You may not follow all 10 ways to fix the hair breakage issue after bleaching. Try to follow the majority of ways to save your hair for the upcoming future.
I hope this article helps you with your need.