Are you worried about your bleached hair? If your answer is "Yes", you are in the right place to seek a proper answer. In this guide, we show details How to fix damaged bleached hair. Bleaching hair has become a part of the present age. Without knowing the future hazard of bleached hair, the young generation is very much panic applying this hairstyle. The chemical of bleaching breaks down fatty acids on the scalp, which makes your hair dry and fragile. As you are here, you must know that bleaching hair damages your hair permanently.
The good news is that you can fix all the probable damages right after applying bleach to your hair. With everyday care, you can get healthy, soft, and new hair growth. You have to provide extra moisture and protein to your scalp just after bleaching hair. You must follow all the necessary ways to protect your hair and avoid the practices that damage hair.
Nutrition To Grow Hair Fast
Here are some foods that everybody should adopt for healthier hair –
Eggs
Berries
Spinach
Fatty fish
Sweet potatoes
Avocados
Nuts
Seeds
Sweet peppers
Oysters
Shrimp
Beans
Soybeans
Meat
Eating habit affects your hairline and overall your health. These are some foods that are full of vitamins A, C, D, and E, zinc, vitamin B, biotin, iron, protein, and another essential fatty acid that is needed for better hair growth and overall health.
Cons of hair bleaching
Do you want to change your look? Then you can bleach your hair. Bleaching hair can change your face look dramatically. But hair bleaching is also harmful sometimes. Have a look at those facts.
The main con of bleaching hair is it can damage your hair. Your hair may look dry and dull after bleaching.
Regular bleaching can destroy your hair growth system.
If you keep bleaching your hair for a long time, your hair fall may increase.
People with black hair have to bleach their hair from the root. This can harm your scalp.
Complete Instructions of How to Fix Damaged Bleached Hair:
Follow the instruction given below properly to have your bleached hair safe and secured.
Regular care for your hair:
Regular care is very much desirable for all kinds of hairstyles. You must know the way of taking care of your hair. You should not use any shampoo after bleaching hair for 24 or 48 hours. If you can hold longer than two days, it will be better. The bleaching chemicals dry up your hair from the normal condition. It takes time to apply its too full activities.
Using natural products:
Always try to use natural remedies in your hair to avoid unwanted hair damage. You can use olive oil, coconut oil, lemon juice, and other home remedies that are helpful for your hair. Using natural commodities is very free from any danger. In the case of using oil, you must maintain a regular schedule.
Using conditioner:
Use conditioner after taking bath. You can use a normal conditioner at the time of the bath. Again, you should use a leave-in-conditioner. This type of conditioner boots hair strength and increases softness. You would find this conditioner at your local market at very little cost. Be friendly with the leave-in-conditioner for its good effect on your hair.
Use of protein mask:
To hold the necessary proteins in your hair, you can use a protein mask. You know a protein mask takes a little cost but puts very healthy proteins into the scalp as well as the hair. The protein mask helps you to avoid the sun and gives extra protein to your hair.
Be friendly with hair when it is wet:
Every day we become angry at our wet hair. In the time of combing hair, we really behave very rudely with our wet hair. When hair is wet, it really takes much time to pass your comb away. When you are combing your hair, try to comb gently. We damage our hair mostly with our hands when it is wet. So be careful and gentle with your wet hair.
Cut damaged hair: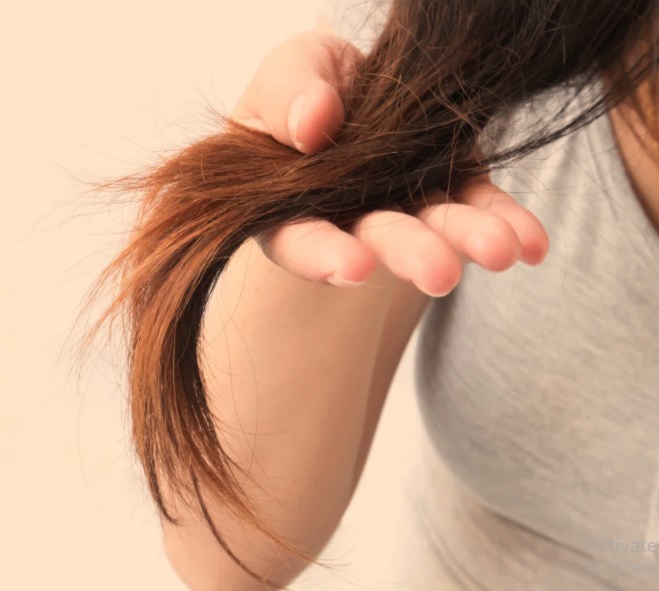 You have to cut damaged hair from the damaged point. If you do not cut the damaged hair, it will affect other hair. At a time, you will have fully damaged hair. Go to the mirror and check the ratio of damaged hair. If you find damaged hair in a big amount, you must go to the doctor. Solve your hair damaging as soon as possible otherwise other unaffected hair could catch the same problem.
Vitamins:
With the other necessary activities, you have to ensure the vitamins. You can use a vitamin capsule that can be used directly in your hair. On the other hand, you can take vitamins. Before taking vitamins into the stomach, you must meet an experienced one or direct a doctor.
Use shampoo:
After bleaching, you have to take a break from using shampoo for 2 days. After a reasonable time, you should use shampoo regularly maintaining a routine. Using shampoo twice a week is very normal and standard. You can use trice in a week to have a softer hairstyle.
Keep away from the sun:
When you are walking outdoors, you must avoid the sun. You know the sunray is very much harmful to our health. The excessive heat of sunrays can damage hair in different ways. You can use a mask or cape to avoid the sunray. If you are capable to avoid this, you will have a better experience later. Go to the market and buy masks and caps to use regularly.
Avoid using chemicals:
To have an artificial look, the young generation of the modern age uses a variety of chemicals. All the stationery products contain several chemicals that can cause dandruff and itching on your scalp. One more thing is that you should not use any color just after bleaching your hair. If you do this, your scalp may get damaged by both actionable chemicals. So, do not use dye without thinking about the side effect of the chemicals.
Do not use heat or style:
We are being very busy in the world of bustle. It is true. You do not have enough time to dry your hair in the free air. We use a hair drier or heat to dry up hair in a little time. You must not use heat or any kind of style that occurred by applying heat. Heat is really a great criminal for hair as well as scalp.
Keep a simple hairstyle:
It is said that simplicity is the best style all over the world. Keep a simple hairstyle that does not affect your hair. I must say that a simple hairstyle is accepted in all environments. You can use natural sources or tools to make simple styles.
Take good care of newly grown hair:
Every day we are losing hair and new hair grows. We do not think about the newly grown hair. Use shampoo and conditioner regularly regarding the care of new hair. When your new hair is on growing, you should not use any color.
Hope, you have very clear instruction on how to fix damaged bleached hair. To be clearer about the instruction, read the article again.
Losing hair every day is very common and natural. But if you lose a lot of hair whenever you comb your hair, this is not natural. Finding out the reason for your losing hair is very difficult. I am going to inform you about some leading causes of hair fall. Read those and find what your reason is.