Full-body workouts are beneficial to health. They are more effective than regular weightlifting. To burn your calories within the shortest possible time in the easiest way, there's no alternative to full-body workouts. There's no tight schedule or routine life of these workouts whereas going to the gym for split training for 5/6 days every week. You can either hit the gym or stay at home to have these workouts. Want to know something more positive things about the benefit? We are very happy to provide you with the benefits of a full-body workout.
List of the best full-body exercises
Doing full-body exercises.
Running and cycling.
Stair climbing.
pushups
Burpees
Squirts and
Reach up
10 Benefits of Full Body Workout:
Choosing the top 10 from a huge list of possible options is very hard. But with the combination of our team with the top choice, do it for you. So, here we will provide the top 10 benefits of a full-body workout. Hope you will like our collection.
1.  Less Time Consuming
If you are a gym lover, you probably go to the gym every day and spend at least 2 hours per day. But surprisingly, the full-body workout can save your time. Split training means a tight schedule, you have to maintain your time. But a full-body workout may require 3-4 days if yours. You can spend the rest of the days of the week for other purposes.
2. Faster Muscle Gaining
Split training is good for muscle building. It is good for specific organs of the body. Even you may need a few days to change the exercise in split training. But the full-body workout is a more positive way to gain muscle faster. Because it never leaves any part of the body. You don't have to wait for a squat schedule after a couple of days of leg training.
3. Fat loss
Full body workout covers almost all types of body training. In fact, it's a combination of all body training such as strength, squat, cardio, etc. So, the extra fat on your body will be gradually decreased if you do these workouts every day.
4. Time for Other Exercises
As 3 or 4 days is enough for a full-day workout, you have ample time to do other health and fitness activities. Cycling, running, swimming, playing sports, etc. all are possible besides full-day exercises.
5. CNS Fatigue Reduction
The central nervous system or CNS gets fatigued due to the stress of the continuous heavy workout. The performance, skill, agility, strength, speed, etc. all get hampered due to this fatigue. But the off days of full-body workouts bring positive to your body.
6. Testosterone Boost
Testosterone increases the ability to build muscles faster. If you are doing a full-body workout, there is an increased possibility to boost the level of testosterone. Doing different body training separately can damage the muscles. But the full-body workout is far better than these.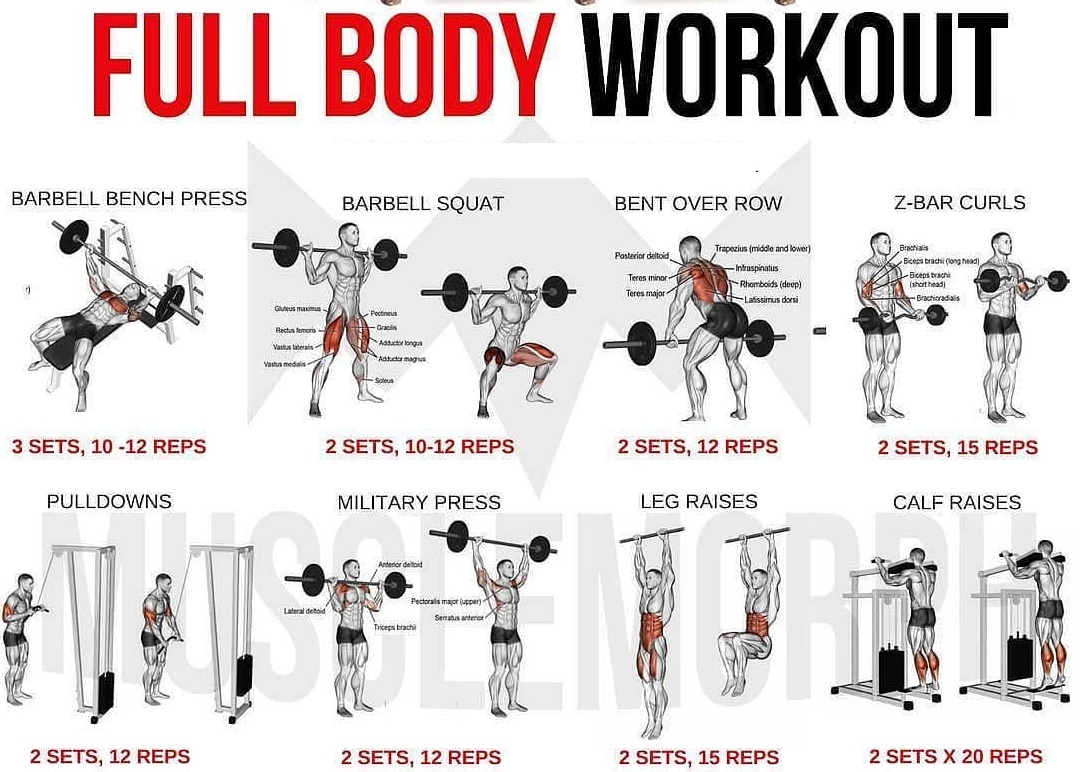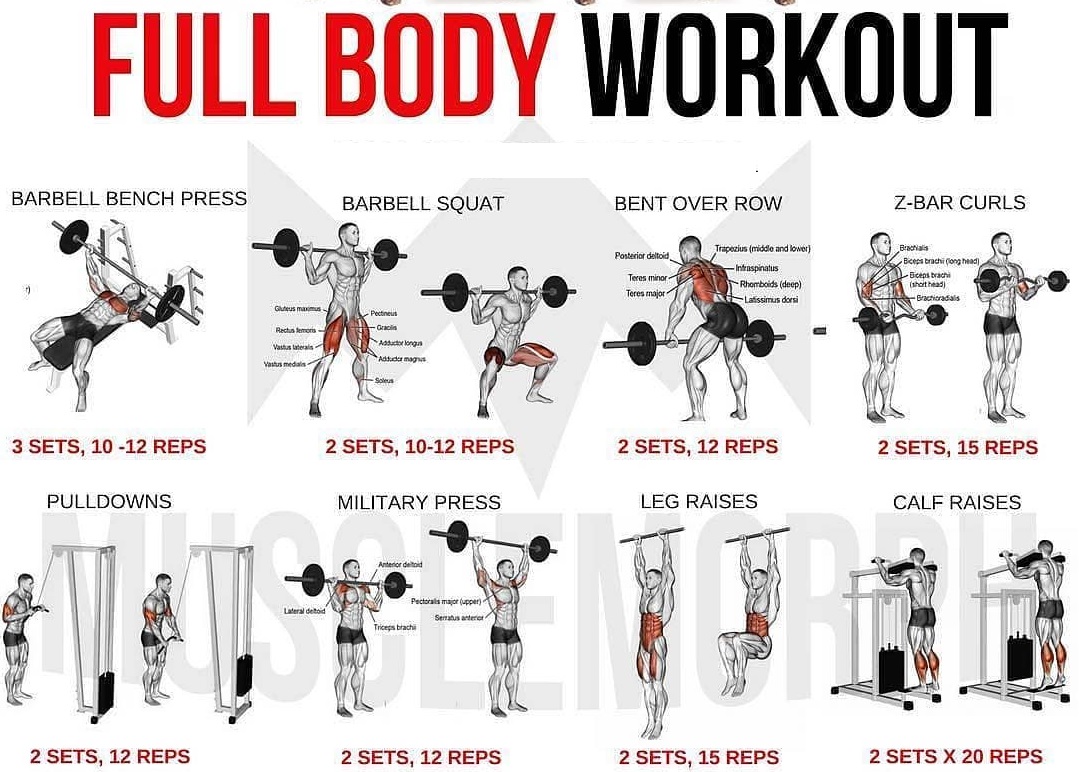 7. Adaptable Workouts
Nowadays people can't think about body fitness without going to the gym. You should know that full-body workouts don't require you to spend time only at the gym. A pair of dumbbells is enough to start full-body workouts staying at your home.
8. Faster Strength Gaining
Who doesn't love to be stronger, tougher, and sharper? The complete pack of full-body workouts consists of every compound movement such as squat, bench press, deadlift, and many more. This pack of exercises strengthens your muscle and makes you a stronger person faster.
9. Perfect Muscular Symmetry
It's kind of odd to look at a man who has a thin chest with thicker biceps or massive legs. Doing split training can do something like this. You do exercise for your arms. Only your arms will gain muscles whereas other body parts won't get it properly. On a whole, your body looks unpleasant. But a full-body workout improves muscle symmetry thoroughly.
10. Increases Interest on Workouts
Doing the same thing again and again even after following a regular plan is too boring. Suppose, you are doing squat and several pushups every day. Doing these repeatedly without any variations becomes less interesting to hit the gym. But a full-body workout never brings boredom to you. It's a composition of different types of workouts. So, you will never get bored again.
Conclusion
Muscle training, weightlifting, diet, etc. whatever you do to keep your body fit, there's no comprise in benefits of a full-body workout. IF you are addicted to building body muscle and strength, you should properly do full-body workouts regularly.