One or two sessions of pool game with friends on the weekend always brings a smile and keeps the mood happy. It rejuveniles for the next week too. However, after the nice pool game session, the felt or cloth on top of the pool always gets dirty. And considering the expensiveness of the pool table, none would like to leave the felt dirty and untidy. So, I came up with some brilliant ideas on how to clean the pool table felt for your help.
What is Pool Table?:
The table which is used to play for the pool game is called the pool table and It looks similar to the table tennis table. The standard size of a pool table is 8ft and one can play with it outside or inside places without any discomfort. Click here to learn more about it.
When it comes to drinking, snacking, and playing a game of pool at the same time, stains will happen. A drink set on the rail of the table spills onto the felt, or a friend drops a cheesy snack chip on the table, leaving behind a bright orange spot on your non-orange pool table. Cleaning up the stains requires a gentle touch and gentle cleaning methods, such as a vinegar and water solution, to avoid damaging the felt.
Guide On How to Clean Pool Table Felt:
Here we gonna provide the step-by-step guide on the pool table felt cleaning with other necessary arrangements. Hope you like it.
Pool Table Cleaner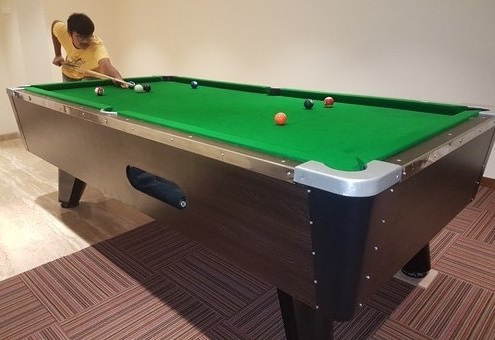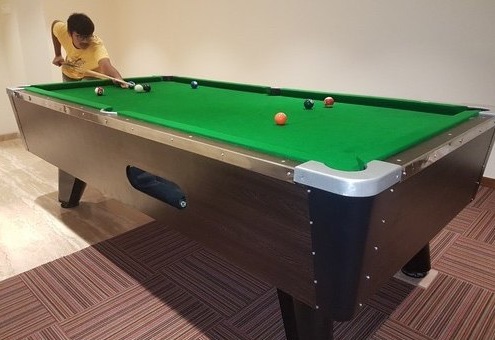 Pool tables are meant to be long-term investments and maintaining them for many years to come. The pool table has a felt on it which is very delicate and needs regular cleaning to maintain its smoothness.
Any product that you use to clean your pool table has to be pool table-approved cleaners. Here are some products you can use to clean your pool table –
Simonis X-1 Pool Table Cloth Cleaning Tool – It is curved shaped to reach under the cushion of the pool table.
Table Cleaning Quick Cleaner – It is sold by cute sight. It is used to clean pool table felts.
Game Room Guys Pool Table Felt Cloth Cleaner – It is sprayed on the pool felt to remove stains and marks from the pool table.
These are some products that are approved to clean your pool table.
Different ways to clean pool table felt:
The pool table is an expensive investment. Nonetheless, cleaning the felt needs extra cautiousness due to its sensitiveness. Considering these facts, I am going to describe different ways to clean the felt.
1st method:
You can clean a pool table felt at ease using a brush and vacuum. The steps are-
Use a designated brush:
Always clean the pool table felt using only a designated brush to clean the pool felt. Otherwise, the cloth might get damaged easily.
Brush at least once a week
You can order the pool brush either online or buy it from nearby sports or recreational stores.
Despite costing around 10-20USD, it will turn out to a worth buying for its invaluable service.
Brush straight:
If u don't want to destroy your pool felt too soon, stroke the brush in a straightforward way.
Use swift strokes in a forward motion
Avoid hard strokes. It damages the felt.
Brush lightly and always move in the same forward direction.
Brush several times:
Cleaning a pool table felt will require several brushes to get a better result.
Start brushing from outward to the edges.
Brush maintaining a line and pile up the dirt.
After the first brushing of the felt, repeat the process another few times.
Avoid piling near the bumpers to use the vacuum properly.
Use Vacuum:
After piling up the dirt properly, next comes the vacuuming.
A standard vacuum with a hose attached to it is a better option.
The brush attachment with the vacuum is extremely hard. So avoid using t.
Carefully clean near the bumpers using a nozzle attachment with the vacuum.
After cleaning the dirt pile, use a rectangular attachment to clean the entire table once again.
Use a light or medium-powered vacuum cleaner to avoid wiping up the fiber of the felt.
2nd Method:
This 2nd method will help you clean spills from the pool felt.  The steps are following-
Placing towel
You must promptly place a dry towel on the spills over the pol felt to clean up it.
You might use either a paper or fabric towel
Continue cleaning until the spill is removed mostly
Don't allow the spill to soak beneath the felt.
Blotting the spill:
You can also blot the spill using a white wet towel.
Gently rinse the spills several times
Avoid putting excessive pressure on the dating point
Scrubbing is prohibited strongly to avoid damages
After blotting the spills, wash them with a dry towel for faster drying of the felt.
Using vinegar:
Sometimes you might find some tough to remove spills or stains attached to your pool table felt. These stains are not most likely to get wiped out with the towel cleaning. So, using a vinegar solution to clean them is a good idea.
Make a solution of water and vinegar approximately with a 50/50 proportion.
Use a wet cloth dipped in the solution to clean the strain.
Repeat the process to get a satisfactory result.
Choosing vinegar over a chemical cleanser is helpful for its mildness.
Using professional-grade pool table felt cleaner:
If all the other method fails, I advise you to go for specialized pool table felt cleaner to clean the felt.
Choose designated pool table felt cleaner only as a final option
Contact the pool table manufacturer or their dealer to select the best cleaner for your pool table felt.
Things you must avoid:
While you start cleaning your expensive pool table felt, there are some things which you must avoid. These are-
Never use a high pressured vacuum cleaner
Attempting to clean with a professional cleaner at the beginning
Never stroke abruptly; it will permanently damage the felt.
Final verdict:
A pool table setup is an expensive investment, in all senses. So, never be careless in maintaining such things. Your careful effort to keep your pool table felt in tidy and neat conditions will surely felt help it to increase its lifespan.
Imagine spilling something on your pool table and leaving a stain. You need to know how and what to use to clean the pool table and remove that stain. And in keeping your lovely felt as clean as a shiny diamond, these easy-to-follow steps, I believe, will be your great companion.