Nasal hair prevents debris, substances in the air, harmful bacteria, and moisture to get inside our hair. However, hair visible outside of the nose makes us feel embarrassed. Keeping in mind the safety of nasal hair, I have shared some amazing methods on how to get rid of nose hair. This article will encourage females mostly as I mentioned the easy way of how to get rid of nose hair for females. You will get a complete guideline with cautions of each method. Don't miss a single line or you may harm your nostrils.
What Happens if You Pull Out All Your Nose Hair?
Everybody has nose hair including you and me. If we read the article from the Cleveland clinic then we can understand that a single nose follicle of ours can grow up to 6 1/2 feet over the span of our life.
You are not going to get any health benefits from removing your nose hair. If you are thinking of plucking your nose hair then we suggest you pick up a trimmer instead of tweezers.
Nose hair is your defense system from dust, allergens, and other particles that try to enter your lungs through your nose when you breathe; moreover, plucking your nose hair can cause infections, irritation in your nose.
What can you use to get rid of nose hair?
Although nose hair serves a useful function, you may decide you want to remove it for personal or cultural reasons. The following are ways to remove nose hair as well as the potential risks.
Scissor:
A sanitary scissor can be the best stuff to snip the hair outside of your nose. Here, you have to consider several things before using a scissor.
Buy a scissor, which has no sharp point at the top. Tell the shopkeeper that you want a small size scissor, which has a round shape on the top.
Look at the blades carefully whether they are sharp enough or not. You cannot fifth with the hair of your nostrils. Get one scissor that can snip hair in one shot.
Electric nose trimmer:
An electric nose trimmer can save you time when you are in a hurry. There is a complication using an electric nose hair trimmer.
You know hairs on our nostrils are very essential to prevent bacteria, dust, virus, and contaminated substances.
Look:
The hair on our nostrils deals a great job for our bodies. We should not cut hair on our nostrils. However, if the hair comes out of your nose, you can cut it.
Electric nose trimmer is easy to put in through the nostril deeper. There is a probability to cut everything on the nostril.
To prevent cutting all the hair inside your nostrils, you have to use the trimmer carefully.
Tweezers
Experts in this field always discourage using tweezers to pluck nose hair. Plucking nose hair is itself in a bad manner.
Remember:
When you are plucking hair, you are disturbing your immune system. On the other hand, it is painful also.
However, if you think your nose hair is coming outside too much, you may use it. Try to avoid plucking nose hair to prevent infection including the presence of bacteria.
Laser hair removal:
This is the most expensive option. Although laser hair removal can uproot your nose hair permanently, it has a chance to hurt your mucous membranes inside your nostrils.
I think using laser hair removal is unnecessary regarding the expensive cost and threat.
How to get rid of nose hair
Take preparation:
At first, sit calmly on your sofa and think which way you would use it. Keep in mind the probable threat of each stuff.
If you are sick, don't ever think to do it now. Get well then select a perfect way suitable for you.
Get some antibacterial liquid or soap and a towel. Make sure, you have cleaned the stuff carefully so that no bacteria can enter by the stuff.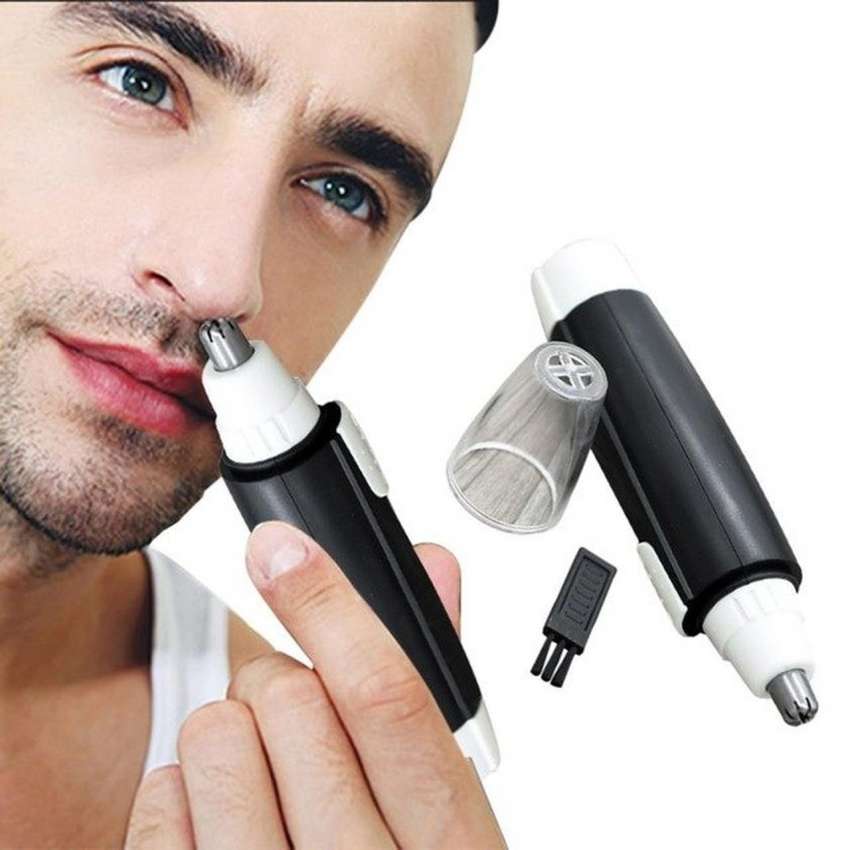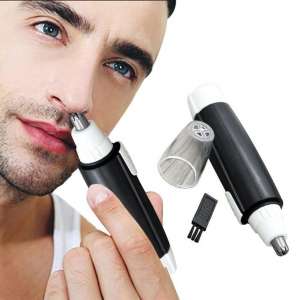 Stand before a well-lit mirror:
Set some lights in your mirror so that you can see the out-coming nose hair clearly.
Stand before the mirror and look at your nose. You may have to bend a little bit to zoom in on the nose hair.
Don't be hurry. Make sure you have well light there.
Measure the hair outside of your nose:
Look carefully at the nose hairs that are visible outside of your nose.
Mark the area where to use the stuff. Now, use your towel and wipe your nose. Make sure that your nose is dry enough to use the stuff.
Now, select any of the methods below that is suitable for you.
Using a scissor:
Wash the scissor with antibacterial soap or liquid. Mix up the soap with water so that it can clean the blades with light liquid.
Look at the mirror carefully and put the top of the scissor into your nose.
Be careful:
You should not snip the nose hair putting the scissor deeper into your nostrils.
Snip only the hair outside of your nostril. Grab the handlebar smoothly.
Using an electric nose hair trimmer:
People ask very often that "Does trimming nose hair make it grow faster?" In short, the answer is "NO".
An electric trimmer does not scratch the surface of our nostrils. There is an old myth that touches of blades can grow hair faster. There is no scientific proof of the myth.
To trim nose hair:
Stand in front of a mirror with good light.
Blow your nose first and clean out any hardened mucous that might get in your way.
Hold the scissors firmly and tip your head back.
Trim hair down to the skin.
Blow your nose a few times after trimming to get extra little hairs out. Don't rinse your nose with water.
Don't try to remove all nasal hair. Instead, focus on the thickest and most visible strands.
Keep the trimmer outside your nose. Put in the trimmer a little bit into the nostril so that it can grab only the long hair, which is coming outside.
Let's Watch Video Reviews!
Using Tweezers: 
People generally ask that "Is it safe to pluck nose hairs?" In short, the answer is "NO". You better not to pluck your nose hair.
However, clean the tweezers with antibacterial soap and water. Look at the mirror carefully and pinch the hair outside of your nose.
You have to grab the bottom of the hair not harming the substance inside the nostril.
Now, pull it out strongly. It may be a little bit painful.
A Laser nose hair removal:
It is too expensive and really hard to operate at home. You should go to an expert to get a good result.
On the other hand, if you hit mistakenly the substance of the nostril, it may encourage infections.
Cleaning up:
After finishing the operation, clean your nose and the stuff as well. Get some antibacterial soap and water. Mix up them so that you can get a light volume of the antibacterial soap.
Get a small cloth or tissue and pour some water to drop into it. Wipe your nose inside. Make sure you have covered all the sniping area.
 What to Avoid
Do not use nose hair removal wax to pluck.
Avoid using nose hair removal cream
Keep yourself away from plucking nose hair.
Consider these things first
If you are sick then do not operate it now.
It may cause you a headache so get some medicine.
Justify the stuff you have bought clearly and be familiar with it.
Bottom line: 
Consider the things that you got in the last two paragraphs before operating. I hope, you will be familiar with the instructions on how to remove hair from the nose tip naturally at first. Keep in mind the cautions when you are applying the methods at your home.